Fix-A-Floor Testimonials:
Fixed floor in no time!

"This has to be the best stuff on the market to repair crunchy hollow sounding tiles. We had a roof leak last year and noticed that the tiles in our family room were becoming crunchy and noisy. Water had seeped under the tiles and lifted them from the base. I looked up on Google about repairing tiles that had lost their grip and was astonished to find out that we would have to replace all the tiles that were bad. We had 32 bad tiles and couldn't imagine paying $3,000 to repair the floor, never mind not being able to match the tiles. I found FIX A FLOOR and we watched the video. We bought two lots of 12 and we have already used 12 tubes to fix the worst tiles; there were 8 of those. Fixed floor in no time." - Warrior-Largo, Florida


So nice when something works as advertised…

"I had to have some tiles replaced after a sewer line break and the tile guys did a horrible job. Five tiles sounded like drums a couple of months after they finished the job but I just didn't want them back in my house again - they were that bad. I bought this product and then procrastinated for over a month before using it because I just couldn't believe it was going to work. I was wrong. It works beautifully, just as advertised. I am so impressed. I ordered two tubes and need to order two more to finish the job. It's cheap when you consider what you'd pay to get someone (who knows what they are doing) to replace the tiles. I recommend this product without hesitation."
Pros: Easy to Install, Effective
Cons: none!
- Skai-Mesa, AZ
Great product!!!

​​​​​​​
"I had some loose kitchen tiles with cracked grout. Fixed the grout first and then let it dry for a few days before drilling the holes. This works exactly like in the videos I watched. I was amazed how much glue went under the tiles before oozing out of the holes. You will definitely use more product then you think and it is messy but very easy to clean up. It is very easy to use. Also, used some on my loose wood floor! I highly recommend this product."
Pros: Easy to Install
- Cindy-MA
Economical way to re-glue loose tiles.

​​​​​​​
"The ceramic tiles in my house are about 15 years old. Several of them had become detached from the mastic and sounded hollow. A few had cracked. Following the product instructions and using a YouTube video for advice/method, I drilled the holes and injected Fix-a-floor. It's a thin fluid liquid, and not a caulk or mastic. It was easy to inject, though when you go from one drilled hole to the next, move quickly so you don't waste much. I found that the repair uses more product than I anticipated. But now I understand how the process works, so that's normal. When the space is really full, and the Fix-a-floor starts coming out of other holes, you know you've got it!! Each tube repaired only 2-3 tiles. But, since I did not have replacement tiles, Fix-a-floor was more economical than the removal of all old tiles, preparing the floor, buying new tiles and installing. The chore was quite easy, and the clean-up was too. Order more than you might need…"
Pros: Very Adhesive, High Quality of Material, Sturdy, Easy to Install, Effective
- The Landlord-Grapevine, TX
"I just bought this product for my home and I must say, it's an amazing product! I have spent in the past over $2000 for some body to inject stuff in my tiles. I just did the same job they did for under $200 and covered a larger area. Works great of loose wood floors to! Thank you. Kind regards" -Karel, Ontario, Canada
"Oh my goodness! Your product is amazing!!! We had multiple tiles in our 45 year old kitchen that were sounding hollow. Several contractors were certain that we would have to completely remove the tiles and re-cement and grout them-at a significant cost of course. We found your demonstration on YouTube and decided to give it a try. WOW! It has been a month now and our floor is "completely healed!" at a fraction of the cost! Thank you Fix-A-Floor! Your product is off the charts incredible!"-Mindy, La Verne, CA
"Thank you for a great product and excellent instructions! I thought I had a serious problem when a kitchen tile popped in one corner. There would be no way to match twenty year old tile if it broke when trying to lift out to reseal. Your product worked like a charm! Very clever to have a screw on top, easy to clean & easier to insure sealing unused product."-Bruce, Carson City, Nevada
"I just wanted to let you know that I LOVE YOUR FIX-A-FLOOR! I had my entire basement floor done in ceramic tile (approximately 1000 square feet) by a man who came very highly recommended. Unfortunately for me, his artistic ability was better than his mechanical ability. Many tiles were loose and I could hear them cracking as I stepped on them. I finally decided to do something about the loose tiles and found your product. After using about 16 tubes,there is NOT a single loose tile! THANK YOU!!!!" -Laura, Montoursville, PA
"Just ordered two more tubes... This stuff works fantastic!! Easy to do, clean up no problem, just as you advertised. The more I got to "knocking" on the tile, the more I found hollow spots that need to be repaired. I will tell my local hardware guy about your product. Was doing an internet search on how to repair tile floors and found your YouTube video...it really is as simple as you advertise. Thanks!" - Jimmy, Lago Vista, TX
"I had 14 loose, hollow sounding tiles; I contacted a repair person, who said without spare tiles, he would not attempt to fix the tiles. He suggested putting a throw rug over the area. I did research on the internet, and found this product. I felt for the price, it was worth the try. I was able to fix all affected tiles myself, some I had to drill additional holes, but no problem. After I grouted, the repairs are invisible. This is one fantastic product, and probably saved me several hundred dollars in repairs. By the way, I'm a 67 year old female, and I did the repairs myself while my husband was at work. The tiles are solid, and I thank you for a product made in the good old U.S.A." -Patti, Clearwater, FL
"I was searching for a product that could fix my daughters creaky wood floor and my loose kitchen tile floor. I had no idea how to fix both issues until I came across Fix-A-Floor. I had purchased several tubes and their DIY Tile Kit. I simply followed the directions and drilled, filled, grouted and cleaned. After waiting for 24 hours to make sure they were completely dry I found both floors were totally fixed to my utmost satisfaction. Fix-A-Floor was inexpensive, very easy to use and most important got the job done! I highly recommend this product. Thank You Fix-A-Floor." - Brian, St. Charles, Illinois
"Fix-a-floor was so easy to use! I wouldn't consider myself a handyman but repairing the creaky wood floors in my kitchen couldn't have been easier. I thought it would cost me hundreds to get my floor repaired, but with Fix-a-Floor it was really inexpensive. Thanks for a great product!" - Jamie, Denver, CO
"Been using your product and so far everything has been working great! So good, in fact, a family member wanted help with his squeaky, creaky, wood floors as well." - Kenneth, Houston, TX
"We had a water leak under our sink which in turn lifted about 40 tiles on our slab kitchen floor. We were in a panic as to how should this be fixed. We only had one spare tile since our home is 28 years old. Our contractor offered to lift a few tiles, however, if he broke them, we could not replace the broken ones. Our other choice was to tear up entire kitchen, foyer, hallway and half bath. The cost would be so expensive. I researched online and found Fix-a-Floor. Immediately ordered the tubes. Our contractor drilled the holes and filled as many as possible. The crackling floor was finally secure. This product is so fantastic that we have already recommended it to our neighbors who have hollow tiles. We do not know what we would have done without this miracle product!" -Glenn & Roberta, Strongsville, Ohio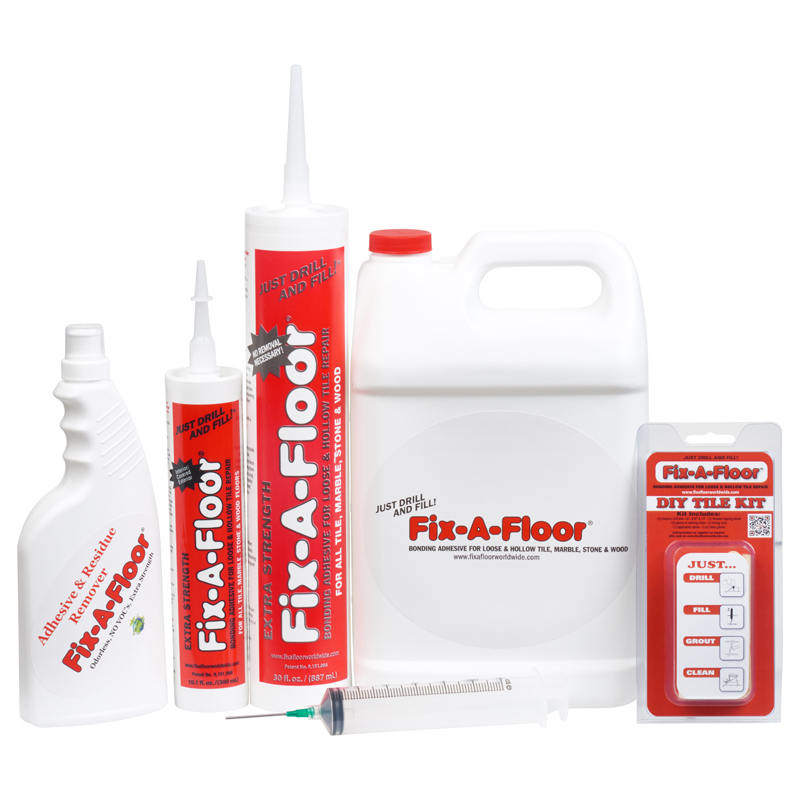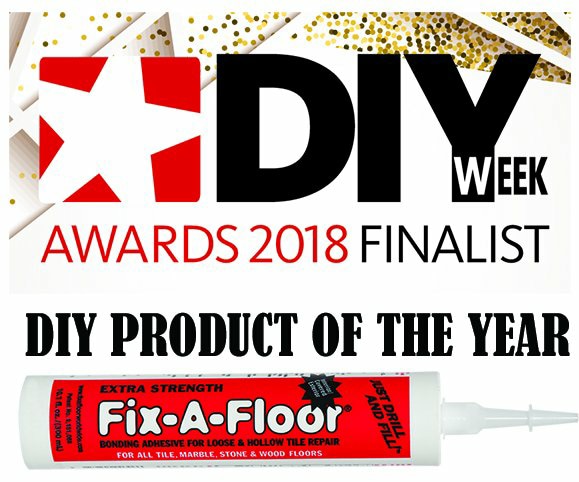 Who is Fix-A-Floor Freddy Frog?
On D-Day, June 6th 1944 at Omaha Beach, Normandy it was the UDT Frogmen who paved the way to help land American troops to free the world from tyranny. Of the 175 Frogmen who risked their lives on this historic day; 31 lost their lives and 60 were seriously injured.
The UDT Frogmen of yesterday have grown into what's widely known as the elite US Navy SEALS of today.
We here at Fix-A-Floor Worldwide, Inc. are proud to have in our family a member of the US Navy UDT Team from BUDS class 104.
Freddy Frog is a strong and respected figure and we are honored to have Freddy Frog on our Fix-A-Floor Team.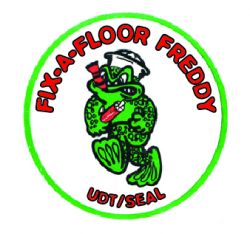 We ship all over the world!
If you need help ordering online please contact us directly we are happy to help process your order...
800-774-5982
Thank you!